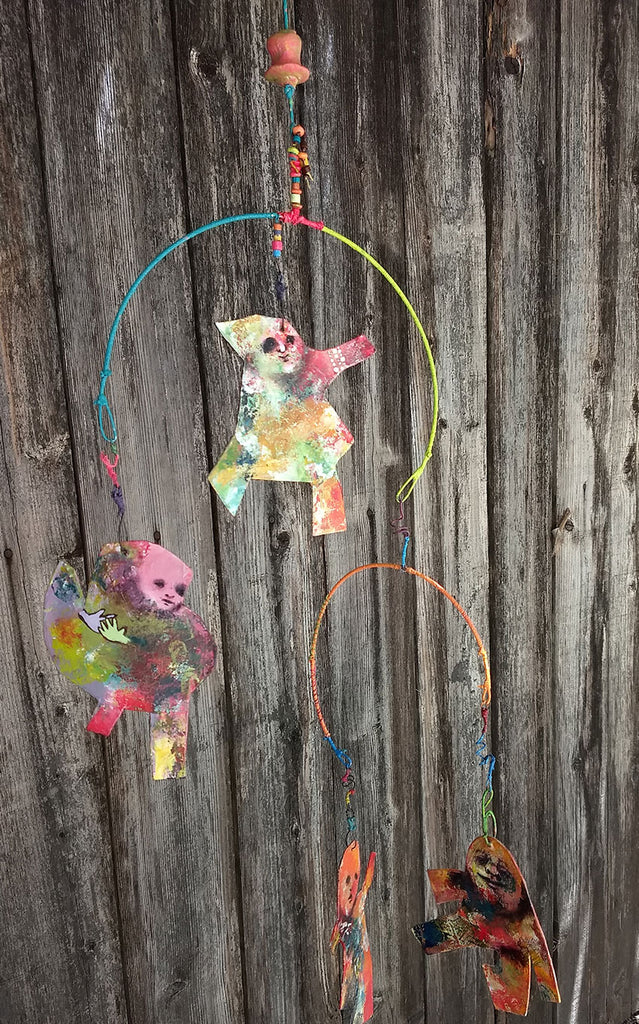 Cactus Gallery LA
DANCE AS I CAN by artist Andrea Bogdan
Freud had a pretty limited view of symbols in his dream theory...mostly body parts, family members, birth and death. Blah. Personally, I think dreams are far richer in meaning than Freud presumed, with every symbol unique to the individual. I decided to have fun looking up "dream symbols" and from those I made these Dream Mobiles.
The "Dance as I Can" Dream Mobile is 57" from top of the cord to the bottom of the lowest hanging piece. It's made from wire, string, acrylic paint, super thick card stock, polyurethane, vintage paper beads, and hand-sculpted paper clay beads.
It has these symbols:
Person in a hood: If YOU are wearing the hood, you are hiding your true self, thoughts or emotions from someone else or the world at large (ewww, so Freudian!). If someone else is wearing the hood, it means they are hiding something from you. Do not let them know you are aware of their concealment or they will find another way to deceive you (ewww, so Machiavellian!)
Dancing: A sign of long-awaited success (hooray, lots of dancers here!!)
People: If it's people you know, it signifies quality and feelings of them that you desire for yourself. If it's people you don't know, it denotes hidden aspects of yourself that you need to confront of acknowledge.
---
Share this Product
---
More from this collection